Victorian Indigenous groups warn referendum result will have detrimental impact on Australia globally
Dechlan Brennan – October 16, 2023
The Victorian Aboriginal Community Controlled Health Organisation (VACCHO) says the Indigenous Voice to Parliament Referendum is a "missed opportunity" for the country.
It comes as many international publications lamented the referendum result as a setback for First Nations people.
The statement, released Sunday, came in the wake of a result that has left many Indigenous groups – in Victoria and nationwide – disappointed and hurt.
VACCHO chief executive, Gunditjmara woman Aunty Jill Gallagher, said the result was disappointing, but First Nations people have the "resilience, determination, and fearlessness" to continue to move forward and strive for progress.
"I'm mindful of the potential impacts this referendum result will have on the health and wellbeing of Communities across the state. We need to wrap our arms around one another and support each other during these challenging and complex times," she said.
"I encourage people to talk to their families, talk to their friends, and know that there are staunch Aboriginal organisations, leaders, and Elders, who are there for you."
VACCHO labelled the result a "missed chance" for the country.
"VACCHO is deeply disappointed by the outcome of today's Voice to Parliament Referendum, which has seen one of the world's most prosperous nations fail to seize upon a historic opportunity to make meaningful change for a better future for all Australians," the organisation said.
"This was a seminal moment in terms of Australia's maturity as a nation. VACCHO believes that this was a missed chance for Australia and will have a detrimental impact on the country's international standing."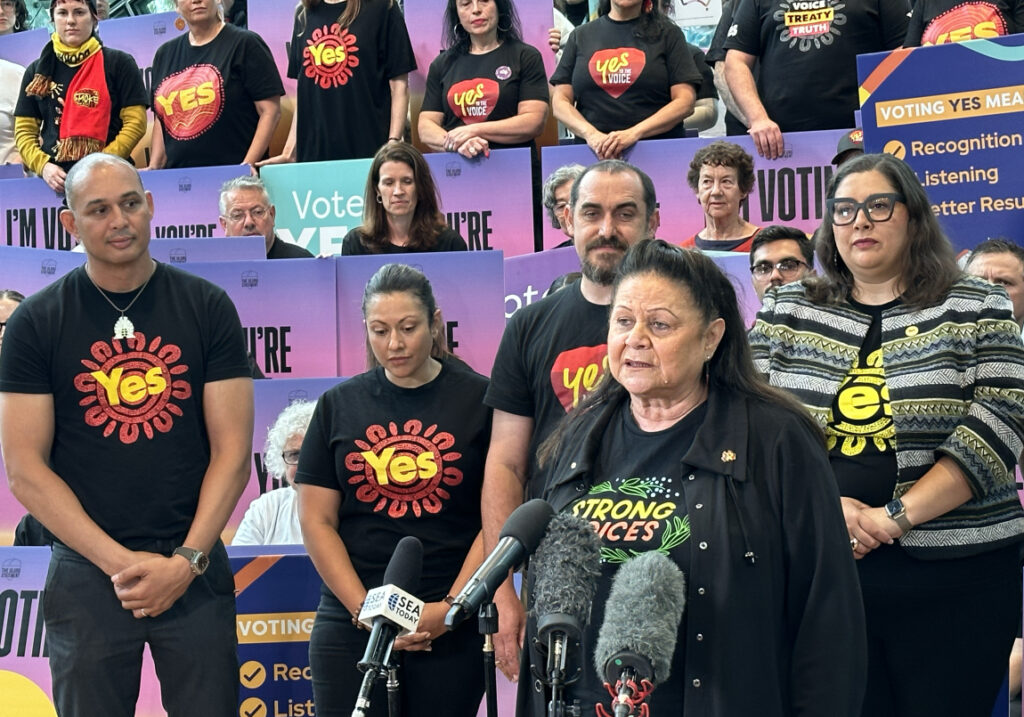 The BBC reported the referendum was rejected in an "often acrid campaign," which was "based on misinformation about the effects of the plan," whilst the French newspaper Le Monde said the decision had caused anger and anguish as a white majority had rejected calls for "a reckoning with the country's bloody colonial past".
"More than 230 years since the first British penal ships anchored in Sydney, PM Anthony Albanese proposed the reforms as a step towards racial reconciliation," it said.
"But instead, it has sparked a deeply rancorous and racially tinged debate that exposed a gulf between First Nations people and the white majority."
Italy's La Repubblica said the referendum was defeated by "disgusting lies," whilst the German state broadcaster, Deutsche Welle, described the result as a "major setback to the country's efforts for reconciliation with its First Peoples".
Victorian Aboriginal Legal Service CEO, Yorta Yorta and Narrandjeri woman Nerita Waight, said the referendum result was down to racism.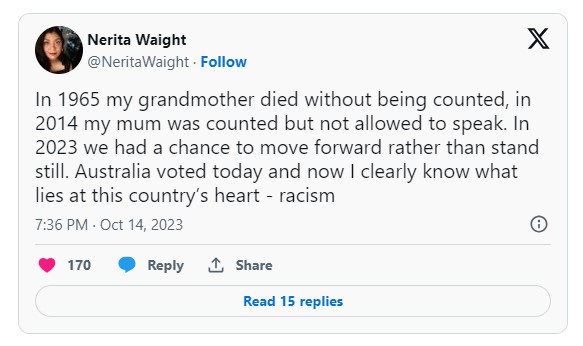 "In 2023, we had a chance to move forward rather than to stand still," she told the ABC.
"Australia voted today and now I clearly know what lies at this country's heart — racism. In my view, there is no way this doesn't impact detrimentally on the path to reconciliation and healing."
Before the vote on Saturday, Human Rights experts at the United Nations had been urging a Yes vote, noting it would "pave the way to overcome the colonial legacy of systemic discrimination and inequalities" that face Indigenous people in Australia.
Health is one of the key indicators in the gap between Indigenous and non-Indigenous Australians. The burden of disease for Aboriginal and Torres Strait Islander people is 2.3 times that of non-Indigenous people whilst the life expectancy difference is estimated to be 8.6 years for males and 7.8 years for females.
VACCHO said they were calling on Aboriginal and Torres Strait Islander Communities across the state to "to look out for one another's health and wellbeing following a highly divisive lead up that has been rife with… disinformation and vile racism."
This has seemingly been reverberated globally, with the New York Times last week labelling the No campaign full of "Trump style misinformation."
"It had given rise to unrealistic fears – like of homeowners being forced to return their land to Indigenous people – that galvanised opposition to the Voice," it said.
Aunty Jill, who told a crowd on Thursday "hope is such a powerful thing" in recounting the story of her elderly mother and the removal of six of her children, said she was "heartened" by Victoria having the leading Yes vote numbers for any state in the country but the nation had "failed to seize a golden opportunity to elevate the status and visibility of Aboriginal and Torres Strait Islander peoples".
"We are a strong, resilient Community and we will not falter. VACCHO will continue to fight tooth and nail for recognition and to rectify the appalling failures in the justice, health, and government systems that contribute to a horrific life expectancy and health gap for our people," she said.
VACCHO said the sadness of the result would only strengthen their desire and resolve to be a "staunch advocate and leading voice for change that supports thriving, healthy Aboriginal Communities."
A joint statement between Victorian Premier Jacinta Allan and Minister for Treaty and First Peoples, Natalie Hutchins, noted that the state will continue to work towards a better future for First Nations people in the state, "led by, shaped by and driven by Aboriginal Victorians."
"And at all times, we'll remain in awe of the extraordinary strength, resilience, and survival of First Nations people across this country," they said.
NOTE: Your social and emotional safety is important. If this has brought up any concerns or issues for you, please have a yarn with Yarnin Safe'n'Strong (1800 959 563) or 13YARN (13 32 16).