Lutruwita Love Stories celebrates literacy and community
---
Nerissa Fenton, an Aboriginal Early Years Education Worker from Aboriginal Education Services, and Kate Bond (26TEN Community Coordinator) from the Clarence Plains Child and Family Learning Centre, wanted to celebrate Indigenous Literacy Day by creating a book with local children and adults that promoted a love of Country.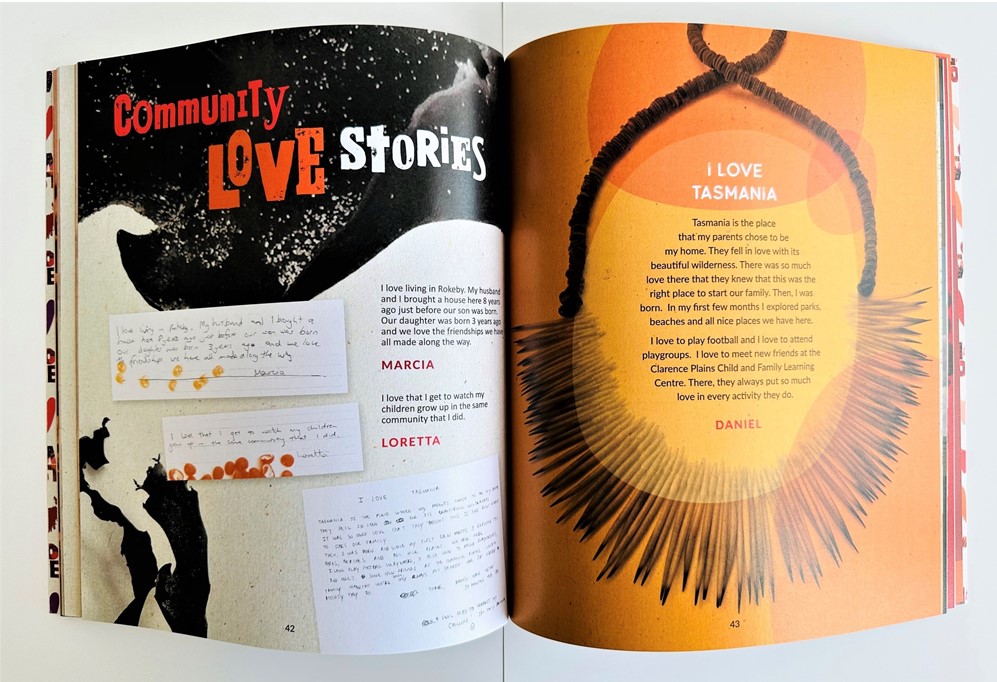 People from the Clarence Plains community were invited to share stories, memories and experiences about love and connection in Lutruwita/Tasmania. The response was overwhelmingly positive, resulting in 40 stories, 21 illustrations, and Aboriginal motifs being collated into a book titled Lutruwita Love Stories. The book, funded through the B4 Early Years Coalition, was officially launched in May 2023 at the Clarence Plains Child and Family Learning Centre. It showcases grassroots creativity and genuine collaboration that resulted in a beautiful celebration of family and community literacy.
Lutruwita Love Stories was a highlight of the 26TEN Ten Year Celebration on 26 October 2022 at the Clarence Plains Child and Family Learning Centre. The event included a story board full of text and illustrations from the book, delicious food prepared by the local Indian community, a 26TEN birthday cake and a graduation ceremony for 26TEN Adult Literacy volunteer tutors supported by Kate Bond.
By promoting Indigenous literacy and unlocking creativity through literacy, Lutruwita Love Stories reveals the enthusiasm of local children and adults to engage in learning and how literacy skills allow the expression of inspiring love stories.
The book is available from Hobart bookstores including Fullers.