VOICE REFERENDUM CAMPAIGN
Referendum day – 14 October – is almost here but it's not too late to volunteer!
Our two key campaign activities to help Tasmanians understand the Voice to Parliament are community 'conversation tables' and free workshops – see full details below – and we would love you to join us.
To volunteer, simply email your name, address and phone number to [email protected] and we will be in touch.
If you would like to help out at polling booths, please register with Yes23 Tasmania here.
At Reconciliation Tasmania, we are committed to sharing factual, clear information about the Voice and what it would mean to all Australians.
Our campaign is based on hope, not fear, for what is a once-in-a-generation opportunity to walk together for a better future. Join us!
FREE WORKSHOPS
Our free, in-house workshop – Understanding the Voice – has been developed by Reconciliation Tasmania and is designed to help people understand:
lutruwita/Tasmania's history
the Uluru Statement from the Heart
the referendum question and proposed constitutional amendment
the referendum process and Tasmania's role in it.
You can download an outline of the workshop here.
For more information or to book a workshop for your workplace or community group, please email Bookings.
Our aim is not to tell people how to vote, but to inform as many Tasmanians as possible about the Voice, enabling them to make a considered choice when they vote in the referendum later this year.
Testimonials:
"Wonderful session, clear, informative and delivered with respect and sensitivity."
"A really important and informative session that focused on the interactive nature of sharing knowledge."
"Very well-run session. The timeline with historical information and road to Uluru and beyond is very informative and a valuable resource."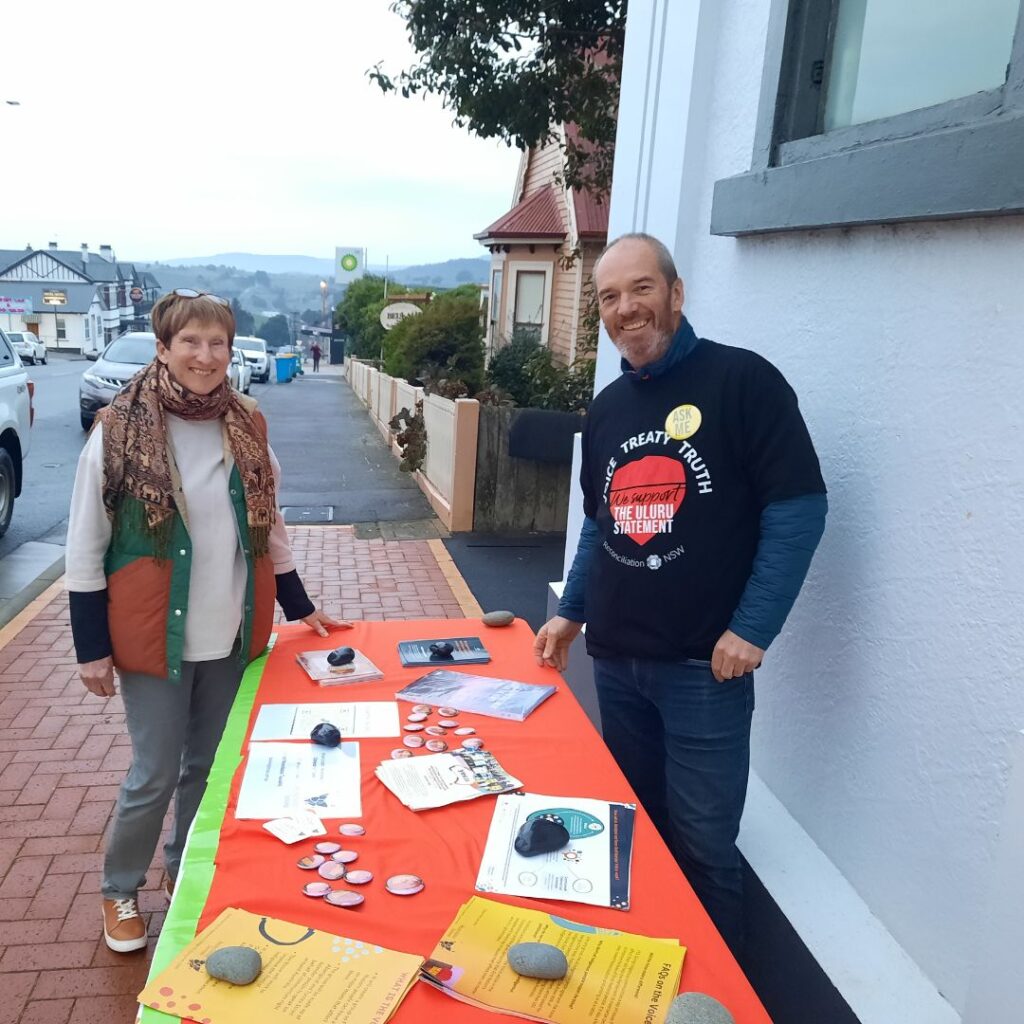 FREE CONVERSATION TABLES
We are taking our Referendum Conversation Tables to markets, events, community centres, shopping centres and town centres right across trowunna/lutruwita/Tasmania.
Our tables, staffed by passionate volunteers, are a safe space to have a chat, ask questions, and find information about the Uluru Statement and the Voice to Parliament.
You can also take away fact sheets and other materials to share with others.
If you'd like us to bring the Referendum Conversation Table to your event or community, please email Bookings and we'll get the table moving.
Be sure to keep an eye out for us in your town!